July 1, 2013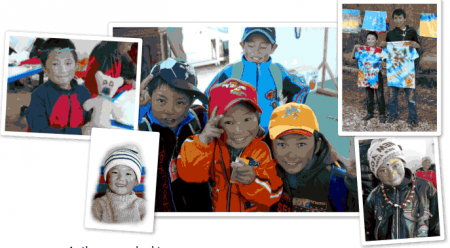 The Theosophical Order of Service recently learned that the Chushul Home for orphaned Tibetan children has indeed been closed by the Chinese (see the following letter). The children are still together however which should lessen any trama they may be experiencing by leaving their home of many years. Our contact with Chushul writes "I am looking into other opportunities to help the Tibetan people, particularly orphaned children, as well as continuing to look after my Chushul Family. I consider you [the TOS] to be a part of the Chushul Family and will keep you informed."
The TOS adopted the Chushul Home as a service project in 2007, and a donation campaign was born. Former TOS president Tim Boyd visited Chushul in 2008, and by 2009 TOS members had donated in excess of $30,000. Your generousity allowed bathrooms and showers to be installed at the Home in 2009. Since then, donations that have continued to come in have been used for clothing, other needed items and gifts for the children. As we no longer have the ability to ensure that your donations will reach the children, we are discontinuing this project at least temporarily. The children of the Chushul Family remain in our hearts and minds.  [Please do not email requesting information about adopting Tibetan orphans as the Chinese government does not allow this.]
In March, 2013 we received the following letter informing the TOS of the impending closure of the Chushul Home:
As the prayer wheel turns...

About a month ago, I received an email from a Tibetan friend/colleague that looks after Chushul Home. That single email gave me the heart-stopping news that the Chinese Government was closing Chushul Home and moving the children into large institutions  where they can board and go to school. PERIOD. I don't know any more than that as I have been unable to reach anybody in Tibet by phone or email. The country is quietly under lockdown. Friends outside of China, friends within China - nobody is able to get through. I continue to try to make contact with my Tibetan agent to see if I can get a permit to enter. Nothing yet.

I cannot change what is happening but I have great faith in the children. They have all been raised with the kindness and care of dedicated Tibetans. They love one another and have the understanding that a good education will help them to create a promising future. I pray that I can see them again, just to let them know how much I love them and will always do whatever I can for them.

I/we are so grateful for the kindness and generosity that you have shown to the children of Chushul Home.  They knew that support came from my friends and were so happy to meet some of you. You truly changed the lives of these children for the better and your example is a lasting impression.  The love we gave will be shared tenfold, at least . . .

I will keep you informed of events as they unfold and hope that you will continue to be involved. Working together, with your support and ideas, really made this work. I hope we can do more.