Diana DC's Visit to Golden Link School, Philippines
December 22, 2007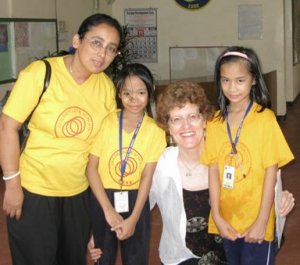 At long last I got to visit the TOS in the Philippines last month.  First I attended the heartwarming and uplifting triennial Indo-Pacific Federation Conference.  Afterwards, a big group of us visited the Golden Link School.  This is the theosophically-oriented kindergarten, primary and secondary school about which many have been hearing since its foundation by the TOS in 2002. Some of you have even been donating to it.
Well, the visit was very moving, as I am sure my fellow visitors would tell you.  In the classroom where the children sang and made speeches to us, I sat in the row behind Linda and Pedro Oliveira from Australia.  I lined myself up right behind Linda's head so those on the stage wouldn't see me with tears in my eyes. (In retrospect, I wonder if the person behind me was using my broad frame to the same end.) (Photo at right: Rekha and Diana with 2 students.)
So why was I - why were we - moved? It was because what we had been told about the school was true: theosophical values are taught successfully there.  Dozens and dozens of the children flocked to welcome us at the gate, shaking our hands, looking right into our eyes, smiling warmly and saying, 'How do you do?' Not one seemed too shy to give a genuine welcome delivered with intent. (Photo below: Vivek from the Singapore Lodge)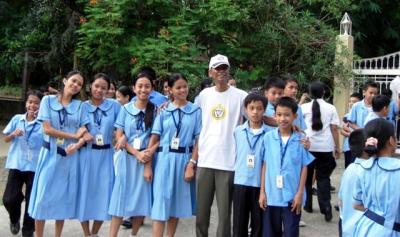 The talks they gave on the stage about what the school means to them and the values they have learned were amazing.   It occurred to me (cynical as I am) that they might have had help writing them, or were programmed by their teachers, but I learned that this was not so.  I was able to return alone with 'Sir Vic' later in the week and spend several hours visiting with the children class by class, then with a group of seventy older students and finally with the staff.  What I saw were children and teachers who had a genuinely loving relationship, who had learned to trust each other and had acquired the confidence to share their inmost feelings and thoughts even in front of the whole class. I noticed how patient and respectful they were when their fellow classmates were struggling to express themselves.  I noticed how kind the children were to the half half-dozen slightly mentally handicapped children integrated into the school.  I saw how loved the school Principal is - 'Ma'am Rekha'.  She has poured her heart and soul into the school for five years, even sleeping in her office for the first two years!
What I also saw - and I hope this won't hurt Rekha and Vic - is a school under-equipped in terms of teaching resources.  The library is .. well, minimal.  Fortunately the TS members from Singapore who were in our group visit noticed this and have already started collecting suitable books to send.  So has Maureen Paterson from New Zealand.  Western classrooms are packed with equipment in comparison with the Golden Link School. I learned that the school has enough room for 400 students but that the roll is limited to 250 for lack of money.  I had - and still have - the urge to return there with a bunch of fellow Theosophists who are trained teachers to find out what materials the staff would like to help them in their wonderful work.  I would also like this visiting team to explore theosophical ideas with the students and staff.  Vic spends two afternoons a week doing this and it would be wonderful to see how he does it.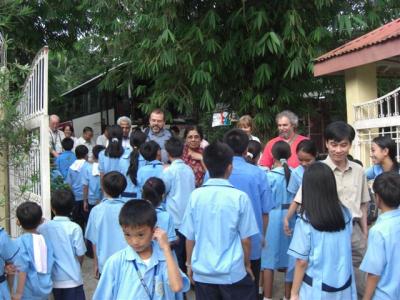 It is great that the teaching medium is English.  This meant that I was able to talk to whomever I wanted.  I got to meet Ella, the little girl that the TOS in Canada is sponsoring.   My smile in the attached photo of Ella and me is directed right at you, Lorraine and Henning! (I shed another tear when hugging her because I was filled with the desire to have the Canadian members beside me to meet her.)
My heart was entirely lost on Angelica, a 'slow learner' who came to the school with behavioural problems.  Since she has been at the school, she is a transformed child.  She followed Vic and me round from classroom to classroom during our visit, her eyes fixed on us solemnly and calmly.  I found her attention span and composure remarkable.
In the photo at right (received, along with one other, from Joseph Gan of Singapore Lodge), some of you can play 'spot the person'.  Can you find Linda and Pedro, Mr & Mrs Sundaram from India, John Vorstermans from New Zealand, George Wester from Australia.?
What with the carbon imprint and all, I felt guilty flying all the way to Manila from Paris for just 12 days but I am really glad I did it and above all grateful to the TS and TOS in the Philippines that made the visit possible.
Webmaster's notes:
Have you ever seen anything more beautiful?!  I haven't, but if you have, I hope you'll post about it!
You can donate to the Golden Link School through this website.  On the donations page, look for Golden Link School in the list of donation opportunities.  Donations to the TOS are tax-deductible.
Diana Dunningham Chapotin is the Secretary of the International Theosophical Order of Service, headquartered in Adyar, India.
Those interested reading more about the Golden Link School can download or view the school's beautiful leaflet (488K, Adobe Acrobat Reader or equivalent required).
Below: Vic, Rekha, and Diana with students