Good Earth Singers heal the earth on 12/21/12--are you in?
October 21, 2012
What the creator has made cannot be destroyed.
This is the message of a Nigerian tribal song known as "Ise Oluwa," and it is the premise behind the work of Shyla Nelson, a Vermont classical soprano, mother of two, and earnest theosophist.
Shyla has founded Good Earth Singers (www.oneearth-onevoice.org), the organization behind her "One Earth – One Voice" campaign.  Shyla is presently touring the world, organizing a virtual chorus of 15 million voices which will join together on December 21, 2012, to sing the folk song in a united effort to heal the planet and call upon the world's leaders to end humanity's violence against the earth.
]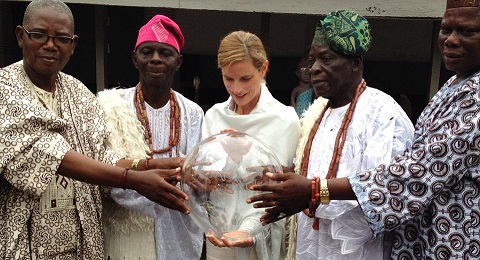 Why sing to the earth, and why now?  Consider the symbolism of the glass globe Shyla carries on her journey as a symbol of her message.  She invites us all to "consider what it means to be 'forged in fire,' as so many of us are experiencing in life on earth at this transitional time. Our earth, too, is undergoing such a trial by fire. The work at hand – our work – is to do all we can to bring healing and health to her body, as well as our own."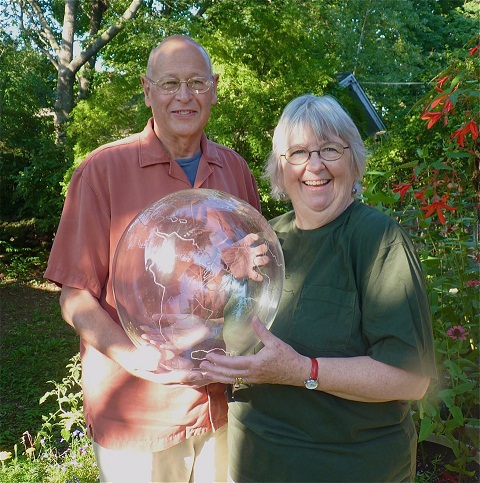 In 2008, Shyla and her work caught the attention and captured the hearts of Tom and Susan Ockerse, long-time theosophists and members of the Providence [Rhode Island] Study Center, a local branch of the Theosophical Society.  Although Tom and Susan had never met Shyla before, they felt that they instantly "knew" her.  Susan recalls, "One meets someone and you know you've known them for a long time! She laughed when she heard we were Theosophists, for she 'knew' she was going to meet us!"  Shyla had studied Krishnamurti as a child, and helped establish the Waldorf school that her daughters now attend.  Shyla joined the Theosophical Society that year.  To learn more about Shyla and the painful journey that inspired this movement, read this article.
To join your voice and intent to what is likely the largest choir ever assembled, visit Shyla's website and tell her "I'm in!"  You can find out how to learn the song here and can even download the sheet music as a pdf file.  Shyla's video page brings the song to life.
Sound, we are told, created the world; harmonious sound, then, sung with healing intention, may be just what is needed to help heal our good earth.  I'm in. Tom and Susan Ockerse are in, as is the Providence Study Center.  Are you in?