April 23, 2009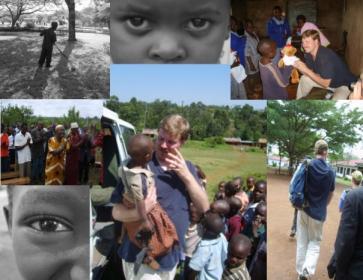 Recently, I had the pleasure and privilege of meeting Lance McWilliams, a Colorado man who embodies the spirit of altruism. I'm writing to increase awareness of the work he's doing in Kenya.
Lance has adopted a rather unusual orphanage in Kisii, Kenya—it's specifically for deaf orphans. Can you imagine being an orphan? Within the unthinkable poverty and violence so common in Africa? And without the ability to hear or communicate normally with those around you? Such is the plight of these children; and Lance, who is himself deaf, has taken these kids under his wing.
Lance, via his Colorado-registered non-profit organization, "Lance's Deaf Orphans," has done much already to provide so many supplies, thanks to the generosity of his contributors. Food, cots, mosquito netting, paper, pens, toothbrushes, colored t-shirts (as school uniforms so they could feel "normal"), jump ropes, soccer balls, and more. Recently, generous contributors helped provide a new toilet "well" and a new water tank—the government was planning to shut down the operation unless these things were provided, but there were no funds. Lance's contributors rose to the occasion! Ultimately, Lance hopes to acquire nearby rich farmland to build a new facility and establish a farm.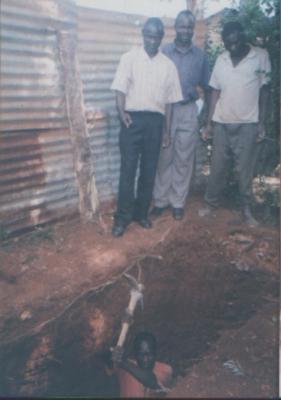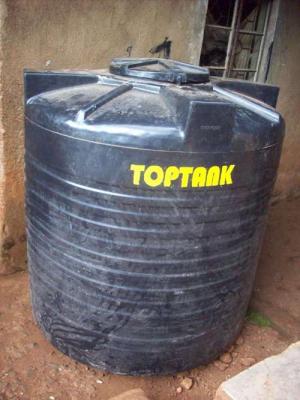 In early 2008, there was much violence in Kenya surrounding elections. And following the violence, there were more orphans seeking shelter. By the end of 2008, the orphanage had grown from 20 to 40 children.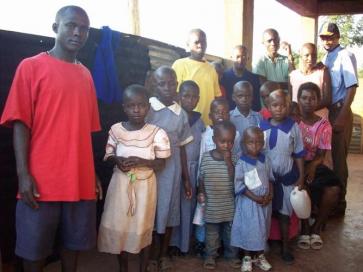 The orphanage is in Kisii, where the temperature at night can reach a chilly 50 – 60 degrees, and many of the kids were sleeping on the cold floor. Lance and his contributors have provided 20 cots with mosquito netting.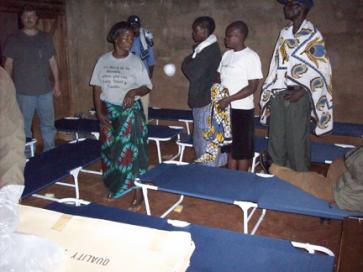 The mosquito netting was necessary to prevent malaria, which claimed the life in September, 2008, of a little girl named Lavenda. When Lance visited the orphanage three months earlier, the kids had been told that they could call him "Father." (It was during that trip that the orphanage was renamed in Lance's honor.) Lavenda walked up to Lance and communicated with him via sign language—her hands said, "Me ugly." Lance could only look at her and blink. Then she signed, "Me stupid." As Lance began to kneel closer to her, Lavenda signed, "Love me still Father?" Lance hugged her and carried her outside to spin her around. Sadly, Lavenda contracted malaria and died; only three months later, Lance returned with contributors' funds for a small coffin, and helped with the heart-wrenching task of burying Lavenda's body.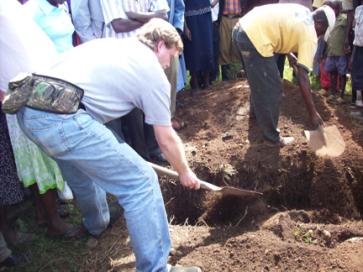 Vivian's story has a happier ending. Vivian is a little girl who suffered from a fungus on her head that was incurable in Kenya. Lance obtained medicine here in the US and took it to Vivian, showing them the proper use and dosage. Look at that trust in Vivian's eyes! The treatment was successful, and Vivian is completely cured.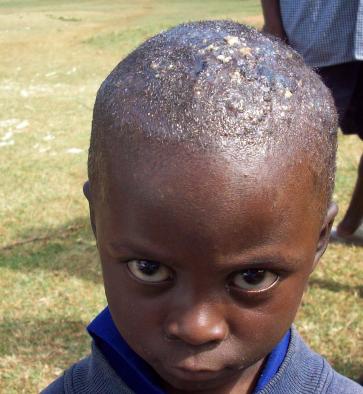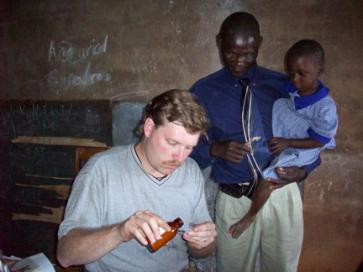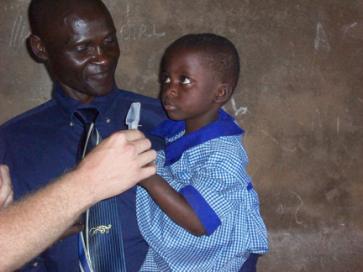 Lance is excited about his latest acquisition which he'll be delivering this summer—45 pair of much needed Crocs! As you can see from this picture below, footwear will be much appreciated.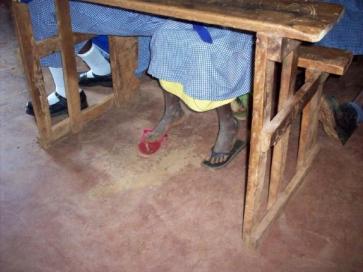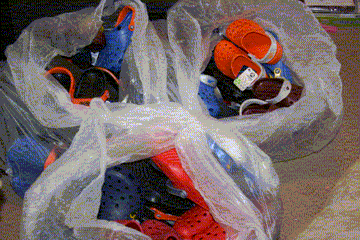 How can you help? If you feel moved to donate even a little (Lance figured out that each meal costs about 30 cents, so even $5 goes a long way), please click here. 
If you have a Facebook page, you can increase awareness of this project by joining the group "Lance's Deaf Orphans."