November 6, 2010
For Our World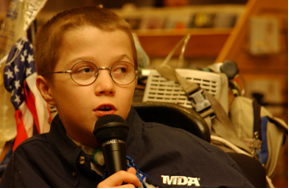 We need to stop.
Just stop.
Stop for a moment.
Before anybody
Says or does anything
That may hurt anyone else.
We need to be silent.
Just silent.
Silent for a moment.
Before we forever lose
The blessing of songs
That grow in our hearts.

We need to notice.
Just notice.
Notice for a moment.
Before the future slips away
Into ashes and dust of humility.
Stop, be silent, and notice.
In so many ways, we are the same.
Our differences are unique treasures.
We have, we are, a mosaic of gifts
To nurture, to offer, to accept.
We need to be.
Just be.
Be for a moment.
Kind and gentle, innocent and trusting,
Like children and lambs,
Never judging or vengeful
Like the judging and vengeful.
And now, let us pray,
Differently, yet together,
Before there is no earth, no life,
No chance for peace.
Written September 11, 2001
by Matthew "Mattie" Joseph Thaddeus Stepanek
Used with permission from Hope Through Heartsongs, Hyperion, 2002
Three years after writing this, Mattie passed away, just before his 14th birthday, from Muscular Dystrophy. We can remember Mattie for his poetry, but also for his favorite motto, "Remember to play after every storm."